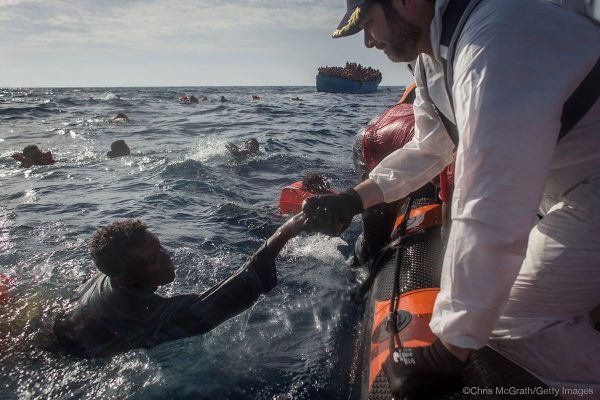 BETWEEN THE DEVIL AND THE DEEP BLUE SEA
ON May 24, 2017, I stood on the deck of my boat and looked out at the blue waters of the central Mediterranean. We were about 20 nautical miles off the coast of Libya, and a scene of total horror was unfolding before my eyes.

Over 200 migrants and refugees had tipped from the deck of a grossly overcrowded smugglers' vessel. Few could swim. The sound was terrifying: 200 people pitched into the water, the sounds of many of their last moments. People screamed as they thrashed to keep their heads above water.

More were trapped below deck. This was why the boat hadn't capsized: 300 people were locked in as human ballast. Some would already be dead from the fumes and the lack of air. It would be stifling hot down there with exhausted, dehydrated and ill people crammed in together.

When most people think of deaths at sea, they think of drowning. They don't necessarily think about the fact that people sometimes suffocate.

These are not pleasant things to read about, and I assure you — they're much, much worse to witness firsthand.

Our rescue team was hard at work distributing life jackets and dragging survivors out of the water, into dinghies and aboard the Migrant Offshore Aid Station (MOAS) rescue vessel, Phoenix​. One of our crew hacked away with an axe to bust the lock on the hatch, to get to those trapped below deck.

Not far away, in the coastal Sicilian town of Taormina, leaders of the free world sat for the G-7. The consequences of European inaction were being borne out under their very noses.

The ​Phoenix​ doesn't have a morgue. We awaited clearance to go to shore, and as we rounded the coast there were 34 bodies in white bags on our port-side bow. We were scheduled to go ashore in Pozzallo, a port town on the Silician coast where we routinely disembarked. Over the radio we were informed that because of the G7, some 200km away, we had to keep heading another two days' north.

While the G-7 leaders stood around with champagne and caviar, we spent three days flanked by decomposing bodies. The ones we couldn't identify were bound for unmarked graves.

The aftermath of a rescue like that is a strange thing. On deck, there's a palpable sense of relief and joy for those who made it out alive — even though the bodies of those who didn't make it are lying right there. We witnessed hell. How we managed that rescue, I still don't know to this day. It was something of a miracle that just 34 died.

My wife Regina and I started the rescue organisation ​MOAS​ in 2013 with a singular ambition: to save lives. Over our years of operation in the Mediterranean, MOAS helped save at least 40,000. We've expanded to work with Rohingya refugees in Bangladesh, and continue to send resources where they're needed. But the tragedy that day off Lampedusa is the one that sticks out in my mind.

Ahead of the G-7 summit, German Chancellor Angela Merkel called for unity from European leaders. There was a semblance of hope — expectations were that the summit would inspire meaningful action.

Italy had proposed a five-page statement on human movement and food security that would acknowledge migrants' rights and contributions to society, as well as the factors driving the crisis.

The choice of location for the summit itself was purportedly a symbolic one, a nod to global concern over the plight of refugees and the "​capacity to unite hope and hospitality in a single shared effort​".

Freshly-elected US President Donald Trump and his advisor Stephen Miller ​thwarted any chance of a bloc resolution​ on the migration proposal. The ​resulting G7 Taormina Leaders' Communiqué​ was a pared-back, hollow version of what Italy had proposed and leaders like Macron and Merkel had championed.

Oxfam International ​remarked​ at the time that "Consensus crumbles at the expense of the world's poorest people." After that summit, I felt as though everything fell down.

The American presidency once carried with it an immense moral authority. That has been trampled — perhaps irreparably so. Trump showed it was fine to ignore the crisis on Europe's doorstep, and our inconvenient boat with its tragic cargo carried on into the night.

When political leadership fails, the consequences are too often tragic. When intolerance and ignorance is sanctioned at the highest level, it can end up costing lives — as has been demonstrated all too clearly during the global pandemic. I feel like a broken record sometimes.

When it comes to American politics, there's this policy pendulum that swings from human decency and honouring commitments under international law, to hardline measures that pandered to fear and prejudice. It's always the same old story.

I'm the descendent of Irish and Italian migrants. My great grandfather left Calabria, Italy at just nine years old, traveling to the United States as an unaccompanied minor. I've been the full beneficiary of every hard-won privilege that fateful passage afforded. America's greatness — nor that of any country — has never sprung from turning inward, or turning people away.

As ​climate and food security crises drive mass displacement​, world leaders need to adopt a pragmatic and rights-based approach to migration that allows for ​safe and legal routes​.

It's perhaps a cliche, but I consider it a necessary one, to recall the words inscribed on the plaque inside the Statue of Liberty. Its message ought to be a guiding light not just for the US, but for all humanity.

As our crew chugged along the coast, perhaps Trump glanced down at the sea. We were there, surrounded by the tired, the poor, the huddled masses yearning to breathe free. In body bags were 'the wretched refuse of the teeming shore'.

In June, on World Refugee Day, the Biden campaign released ​a statement outlining election promises​, disavowing the "Fear-mongering, xenophobia, and racism [that] are the unabashed tenets of Trump's refugee and immigration policy".

He announced a promise to bolster the US refugee intake to a minimum of 95,000 annually, as well as repealing the abhorrent 'Muslim ban' and restoring asylum laws to end enforced separations. We've got a lot of things to fix.

This election, I know which side I want the pendulum to stop on.

Please believe me when I say that lives depend on it.