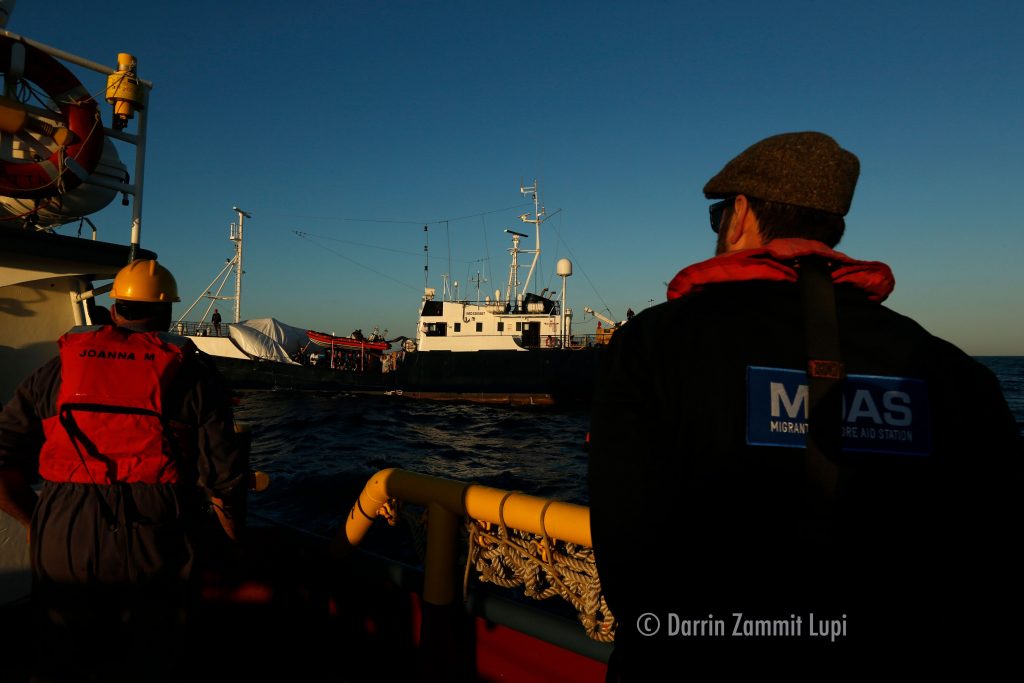 Race to the bottom on the Mediterranean
As Europe bunkers down amid the coronavirus pandemic and health systems strain to meet the surge of cases, an escalating crisis is playing out on the Mediterranean.
On April 7, Italy declared its ports unsafe for disembarkation of those rescued at sea 'for the duration of the national public health emergency'. Malta soon followed suit.
The result of these port closures has been a tense standoff for the crew and some 150 souls aboard the Alan Kurdi, a rescue vessel run by German NGO Sea Eye. The Alan Kurdi is the only non-state SAR vessel in operation at present, with Ocean Viking and Sea Watch 3 (operated by Sea Watch, Medecins Sans Frontieres and SOS Méditerranée) not yet having returned to rescues following their two-week enforced quarantine in Italian waters.
As at time of publication, on April 15, 149 remained aboard the Alan Kurdi.
Maritime distress hotline Alarm Phone estimates that in the week April 5 to 11, over 1000 people on more than 20 boats left Libya's shores. The group was alerted to 10 of these, two of which were rescued by Alan Kurdi on April 6. Over 500 people were reported to have been returned to Libya, and six people are believed to have drowned. The fate of several boats remains unclear, and an as-yet-unconfirmed number reached Italian waters autonomously.
Alarm Phone alleged that a boat capsized between Malta and Libya, and European aerial reconnaissance outfit Frontex reportedly spotted an empty dinghy. On April 11, Alarm Phone said that four boats remained in distress at sea, and alleged that the Armed Forces of Malta refused a rescue within their SAR zone.
This account has been disputed by Malta's Minister for Foreign Affairs, who claim no such sinking took place within Maltese waters.
I warned back in March about the alarming trend toward penalising SAR, and the risk of states using the coronavirus pandemic as an excuse for dereliction of duties. It saddens me to see that Malta's theoretically left-leaning government is sounding increasingly hardline. It's essential that port closures aren't used to castrate search and rescue efforts.
Malta's Minister for European and Foreign Affairs Evarist Bartolo wrote on Twitter over the weekend that Malta needed to turn its focus inward to tackle COVID-19.
"When your neighbour's house is on fire, your duty is to help. When both houses are on fire, your first priority is to try to stop the fire in your house," he wrote.
In a Facebook post, Bartolo said the total number of arrivals to Malta in 2019 was 3,405. In 2018, this was 1,445 — a 136 % increase. In the period January 1 to April 7 2020, Malta registered 1,135 arrivals. In the same period in 2019, this was 237 arrivals.
He suggests that adjusted for population, the 2020 arrivals so far would be the equivalent of more than 100,000 people entering Italy, France, Germany and the UK. He added that "Malta's migrant centres are currently almost full and not in a position to expand capacity".
He describes the pandemic as having "exacerbated the long-standing impasse which has governed migration within the European Union since as far back as 2008".
No one can doubt that Malta has, for the most part, done an exemplary job and picked up slack where other EU member states have fallen short.
In his post on Twitter, Bartolo wrote: "It is important the European Union recognises the reality that is developing in Libya. There is a racket going on in the middle of a civil war. The demand is from desperate people and the suppliers are greedy human traffickers. Malta is not in a position to assist as we fight our own war against the coronavirus, with overstretched resources as it is. Urging directly or indirectly these greedy human traffickers to continue is an inhumane act."
Implicit here is the idea that traffickers are being incentivised to continue with their business. From a SAR standpoint, such language is a concern. Over the years there has been exhaustive discussion about push and pull factors, with the finger often pointed at SAR organisations. This is a strawman proposition.
We can say with some certainty that if SAR operations are suspended or forced to a standstill due to political interventions and constraints, three things will happen: 1. Traffickers and smugglers will continue to operate, 2. Boats will continue to land on European shores, and 3. People will die at sea.
As journalist Sergio Scanduri wrote on Twitter on April 12, a rubber dinghy containing at least 40 people had been spotted two miles off the southern coast of Sicily. He noted:  "The only pull factor is geography."
Malta's government is taking a worrying wrong turn when it comes to maritime arrivals, but it's not too late to correct its course. Same, too, for the rest of the bloc. "Humanitarian imperatives must prevail while protecting host communities," wrote Vincent Cochetel, Special Envoy of the UNHCR for the Central Mediterranean situation. I'd tend to agree.
To take that one step further, I'd argue that it's in the interests of EU member states to allow SAR to continue — because having ghost dinghies wash up once their occupants scramble ashore is no way to get a meaningful handle on a public health crisis. Cooperation and communication, as always, is key.
Part of Malta's generosity in recent years has perhaps been a function of its relative economic prosperity and stability. However, as the coronavirus pandemic takes a wrecking ball to economies worldwide, it can be expected that this will quickly hit people's hip pockets. This tends to be when they're most susceptible to xenophobic rhetoric.
Since 2014, it's estimated that over 20,000 lives have been lost on the Mediterranean. As we enter the warmer months, and with crises in the MENA region escalating, we can expect that the Mediterranean route will continue to be seen as a viable option for desperate people fleeing war to a Europe stricken by pandemic.
It's a sad irony that the most-recently persecuted rescue vessel is named after the little Syrian boy, whose washed-up body made headlines around the world and put a human face to the Mediterranean crisis.
At this time, European unity is crucial. As we've seen from Malta's response in the past, strong moral leadership inspires the same in others. But similarly, cowardice and bigotry have a similar power — when one state abandons its obligations, others will surely follow.