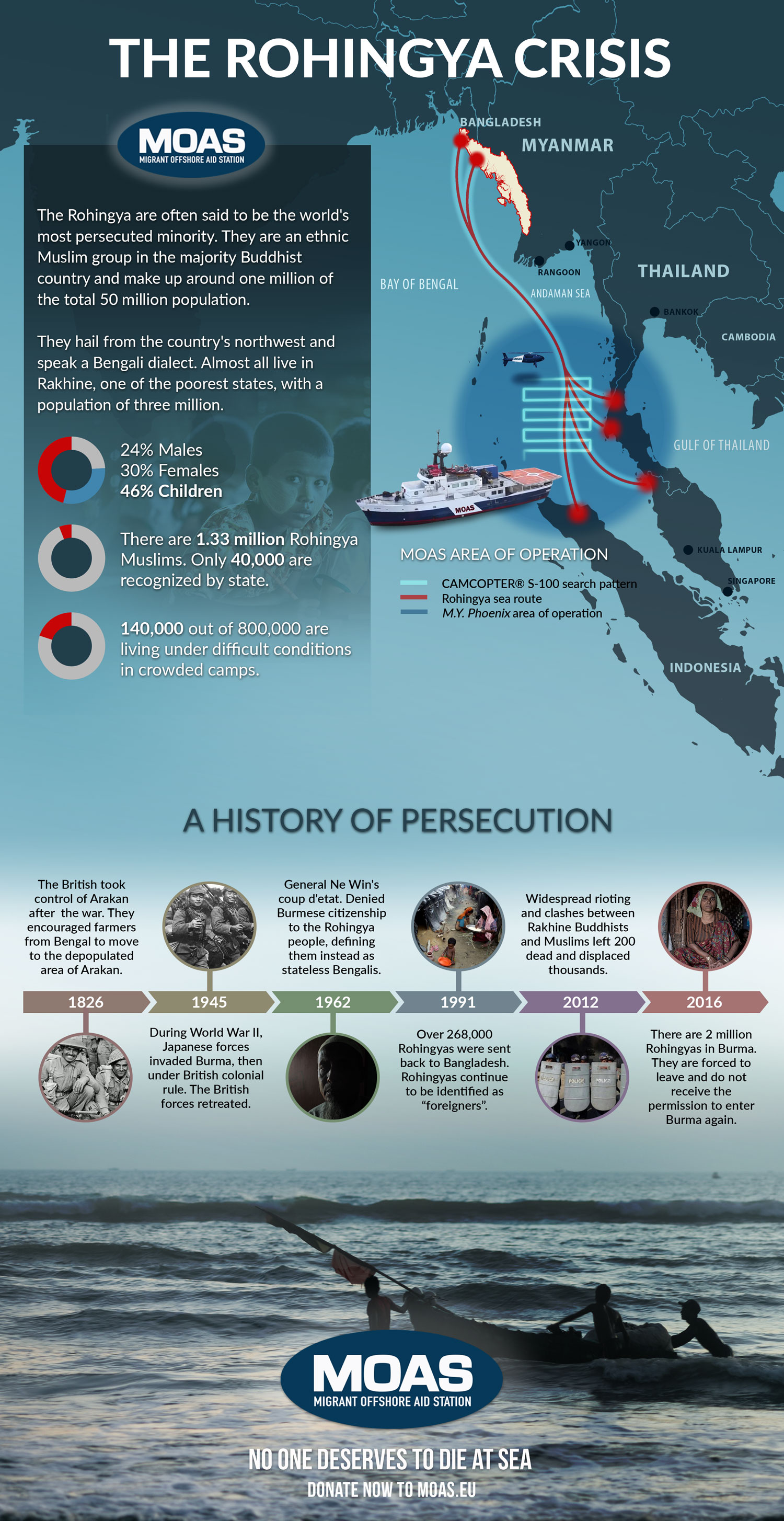 The Rohingya are a people without a home
The Rohingya are a people without a home. Though 1.2 million Rohingya live in Myanmar, and have for generations, the government of Myanmar does not recognise their status as citizens. As Muslim people in a Buddhist- run country they find themselves without a country, even though post World War dealmakers promised them a homeland inside what is now Bangladesh. Today the government considers them 'Bengalis,' historic immigrants who never moved an inch from what was India. To make life miserable, they are deliberately withheld passports, denied access to medical treatment and education. The Rohingya who have lived in Myanmar for centuries are singled out for numerous outrageous restrictions including their movements, who they can marry, how many children they can have and even where they can and cannot live.
Last year 25,000 Rohingya escaped the squalor of the settlement camps to find better lives in Malaysia. They flee by sea, ideally on a 10-day journey on open water that can sometime take months. Not everyone makes it. While some estimate the mortality rate is 2%, or 500 people, MOAS research shows that the number may be as high as 10%. That's 2,500 people missing or dying at sea every year.
In early March, MOAS will launch its South East Asian Mission to Track Rohingya Refugees. Based in international waters near Malaysia and Thailand, the team will use long-distance drones to measure movements of ships that may be carrying migrants. All data collected will be shared through our on-board data gathering and cultural liaison, the Bangkok-based Fortify Rights, as well as the Malta-based NGO Migrant Report, a news organisation that focuses on migration issues. It will use Schiebel S-100 Camcopters (drones) to measure movements of ships that may be transporting refugees or migrants. In meetings between MOAS principals and various local and national government authorities, it was agreed that preventing loss of life at sea was a high priority.
If we find a vessel in distress, MOAS search and rescue professionals will respond, whilst strictly following maritime laws and coordinating with appropriate government bodies.
The goal of the mission is to generate a better understanding of the movements by the Rohingya people. By providing first-hand data on movement, we hope to spark active discussion about the conditions and treatment of Rohingya. Knowing migration patterns could help streamline future rescue efforts.
Helping us crunch the numbers will be security, medical, linguistics, migration and aviation experts.
After four weeks at sea, we'll evaluate and review the mission.
We'll be aboard Phoenix, the ship that launched the MOAS Mediterranean mission, once again heading into uncharted waters.